All I need is a good microphone and headphone setup for Discord and maybe a small amount of recording on Audacity or something. I thought I had it…
The reviews of the Focusrite Scarlett Solo are overwhelmingly good and supposedly "just work" on Linux.
So, I went out and got one. I plugged in the USB from the device and connected one of my lapel mics and my Sennheiser HD 280 Pro headphones and… voila!! It worked awesomely.
I was able to do a very portable meeting on Discord with the device connected to my laptop and all was well.
Then… not so much.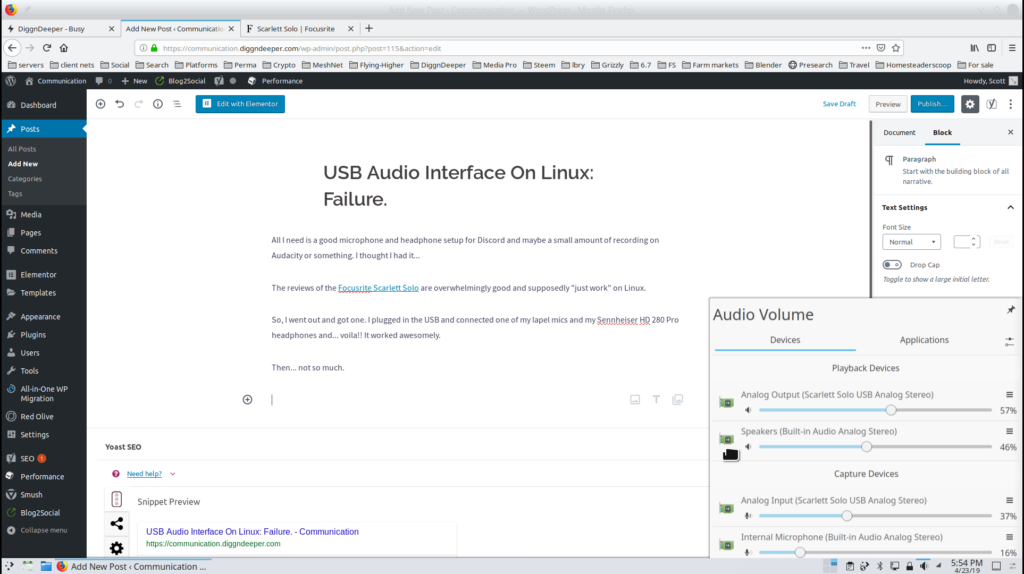 The device is still listed and the headphones still work, but the microphone input does not. So sad.
I have spent the past several days stuck on scouring the internet for solutions – to no avail. I thought I was getting warm a few times, but nothing has gotten me any further toward an actual solution, it appears.
As a matter of fact, I tried enough "solutions" that all that was left, that I could think of was to reformat and re-install my operating system. I'm glad I did to that, because I took the opportunity to dial in my OS a lot more than my previous install. I'm pretty happy with that.
Apparently, this situation I'm dealing with on this Scarlett Solo happens, but happens, but rarely. The firmware is called "Class Compliant", which means that it should "just work"on Linux, but something is wrong here and I can't figure it out.
I'm not made of money, but now I want to go out and try the Zoom H6. It is a recorder and USB audio interface which also has great reviews on the performance of the device and the compatibility with Linux. The H6 is a lot more expensive, but has the added benefit of being a solid field recorder. That goes well with my documentary aspirations that never seem to come to fruition.
The other option I can think of is getting a USB microphone and using the ThinkPad's audio port for the headphones. That might work, and a whole lot more inexpensively too.
I'm just really kind of bummed. I'm a Linux and open source advocate and yet so often I am left with these really annoying little hassles like this. The real annoyance is that I am the type of user that can't just let it go. There HAS to be a solution, I think, and then the next few days or even weeks are spent trying to figure that solution. I almost always find one, but so far this time, I have not.
Anyway. Back to the grindstone. I have so much other work to do here.
Join the conversation on Discord: https://discord.gg/5fPatJx